KALBAR, QLD - August 5th, 2011 – Sekhem Grand Master Helen Belôt has announced today the launch of a new course called Sekhem Colour Line therapy which is now being offered to those interested in experiencing the way colour plays a role in healing.
Colour is all around us and we most certainly live in a visual world where we are bombarded with imagery of every colour tone and hue throughout our day. Yet very few of us actually stop to think about how colour affects us and how our daily lives are influenced by the colours that we see. We make choices on the colour car we buy, the colour of the clothes we wear, even the places we like to frequent for holidays because of colour. Some people take great pleasure in looking out at an aquamarine ocean view, others delight in being enveloped in a green tree filled forest, and others still are drawn to open sand dunes or desolate red deserts. And still most of us never really think about why we are drawn to certain colours and what effect they might be having on us that keeps us attracted or in some cases even repels us.
Helen Belôt has had a lifetime involvement with many energy systems and has been fortunate enough to receive information about the meaning of colour from Ancient Egyptian times and the effect it can have on our wellbeing. With this knowledge, she has designed a course which teaches people how a combination of specific ancient colours and Sekhem healing energy can be combined in an amplified effect to provide a powerful dual healing system.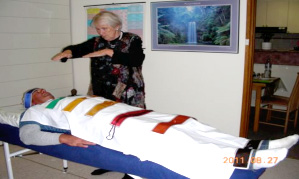 Helen Belôt demonstrates healing techniques during a colour course in Melbourne
The course is designed especially for people with an appreciation and awareness of colour as well as those who have an interest in Ancient Egypt and the practices and rituals of the time. "I always knew colour was far more important than most people realised and that it had a great power to heal so it has always been part of Sekhem", advises Belôt.
"This course takes the healing power of the specific colours used in very ancient Egyptian times coupled with the modern method of using this energy to achieve healing of deep emotional problems or long term problems" She adds.
But unlike books or even charts on colour and their meanings, this course provides great learning to any participant through a hands on practical approach that will be of great value to people who are in need of a great boost of intensified healing energy or wish to heal a pressing problem.
Although many claim that each colour does affect all of us in the same way as per the teachings of colours and chakras, Helen feels that Colour carries its own unique frequency that affects us individually. "Colour is subjective to the person seeing the colour so it is impossible for another to predict exactly what effect it will have on another".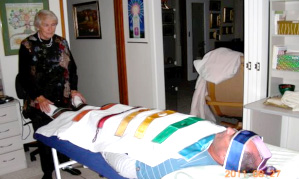 Helen Belôt demonstrates a hands-on healing technique during a colour course in Melbourne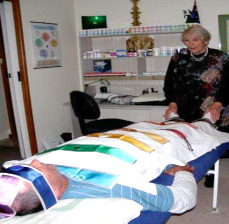 Helen Belôt talking to a participant prior to undertaking an energy exchange during a colour course in Melbourne
The Sekhem Colour course is a full two day course costing $350. Numbers are usually limited to 10 people and Handmade colour line kits in the colours used in the temples of ancient times are provided during the course for use.
People can expect healing on whatever level they have asked for. Access to the course is available to holders of Level 2 Sekhem or higher. The Sekhem Colour course will be conducted by Helen Belôt herself or in conjunction with Sekhem Master Audrey Mac Farlane or a Sekhem Master Teacher who has themselves done the course.